WEDDING TESTIMONIALS
______________________
________________
It Was an Amazing Experience and Rev. Gerald Helped to Make That Happen
We found Rev. Gerald on Kijiji. That lead to a discussion and then a full consultation… we knew right away that he would be our wedding officiant. From the beginning he was very helpful and a great listener.
Rev. Gerald provided us with many options for our ceremony… we actually relied on him to give us our framework and then it all came together… his experience, cheery amicable personality and sense of spirituality was appreciated and grounding… We are both very busy people and worked almost right up to the wedding…
We loved our ceremony…. it was just the right length of time; all the wording was perfect and the Reverend's Rose ceremony made it extra special.
It was an amazing experience and Rev. Gerald helped to make that happen.
Thank you Reverend Gerald!
Karen and Chris
October 2017
There are no Words to Describe how Beautiful the Ceremony was that You Put Together for Us.
Dearest Reverend Angela:
Our wedding was the best day of our entire lives and we never wanted it to end.  From the moment I met you, I knew I made the right decision in having you officiate our wedding. Throughout the entire process, you put my mind at ease on multiple occasions. You offered advice, kind words and comfort through a somewhat stressful time.
You made my husband and I feel so comfortable at the altar. There are no words to describe how beautiful the ceremony was that you put together for us. The rose ceremony was beautiful and original, and the poem had everybody in tears.
You are a beautiful and kind soul and I wish you, your husband and your family nothing but the best in the future. I will absolutely recommend you to anybody looking for an officiant.
Sincerely,
Mr. and Mrs. Boal
October 2017
Such a Memorable Time in Our Lives
Good evening Rev. Angela,Thank you for officiating our special day. Doug and I are so much more in love now than the last 10 years. Our ceremony especially the rose ceremony was very intimate and can't thank you enough for such a memorable time in our lives. We've had no hesitation recommending you to our friends and family and blessed we found you in time.
Cynthia and Douglas
September 2017
I Appreciate The Fact That She Made Everything Very Easy For Me
Five minutes before the ceremony, we realized that my fiancée (still at the time) had forgotten to bring the Marriage Licence with him. However, Angela was very patient enough to wait for it to arrive. We started the ceremony without the licence, and although I was very worried, the ceremony was still perfect. She is very soft spoken and you can feel her words touch you inside your heart.
Choosing a good officiant for the wedding is very important for a couple's memorable wedding ceremony. My husband and I believe that we made the right choice with having Angela to officiate our wedding. It has been a wonderful experience working with Angela during our most special day. She was able to walk through with us every single step of the process, and she listened to every request I asked of her. I appreciate the fact that she made everything very easy for me, most especially because I am a DIY bride. She responded very quickly on every email and text, and she made sure that I understood how the flow of the ceremony was going to be. Thank you very much Angela for your kindness, patience and for being a part of mine and my husband's wedding ceremony. I wish you all the best!
Keilie and Marko
September 2017
It Was a Ceremony That We Will All Remember
Working with Rev. Angela was an absolute pleasure. She guided us through every step of our wedding ceremony with utmost professionalism and patience. She truly made things simple and easy. She was the perfect choice for us and we are deeply grateful that we found her. She is warm and loving and it was a ceremony that we will all remember. Everyone felt included.
We would definitely recommend Rev. Angela to anyone planning their wedding!
Kelsey and Francisco
August 2017
A HUGE Thank You for Officiating Our Wedding!
Dear Gerald, We both want to say a HUGE thank you for officiating our wedding! It was an absolutely beautiful ceremony and we had so many comments about it!
You have such a lovely calm manner – you seemed to gather up all the love in the air to twirl it around us! The way you speak, the words you use – we could tell how much you enjoy your calling and we feel extremely fortunate to have found you!
Many blessings,
Emma and Fred
June 2017

We Can't Thank You Enough
Thanks so much to you both for our beautiful wedding ceremony. It was perfect and we can't thank you enough. Blessings
Kerry and Alireza
June 2017
It Was Pure Magic!
A kind man with a really warm smile. What he wanted most was for us to feel like it was our day. He paid close attention to what we wanted, and honoured our wishes. Our wedding was incredibly special–magical really.
He played a big role in that. There was a tree in High Park and a year prior to our marriage, I had promised my wife that I'd take her to, so that she could climb it; but as we had led hectic lives, when our wedding came up, we didn't have the time to go and find it. I had told Rev. Gerald that we want to get married underneath a beautiful tree, by a body of water. And he said, "Sure, I know just the tree".
And when our wedding day came, and he led us to the tree he knew, it was the same tree that I had promised my wife that I'd take her to. So, call it a coincidence, call it a miracle, call it whatever you'd like. To us, it was pure magic. And Rev. Gerald had a big part to play in that.
Thank you Rev. Gerald, and thanks for ending your wedding script with: "You may now both climb the tree" as per my request. You rock.
Best regards,
Annija and Soorena
May 2017
Thank you so much Angela for such a warm wedding!… Thank you so much one more time!
Irena and Anton
May 2017
You Made Our Dreams Come True!
Hi Rev. Angela, Thank you again for everything. You made our dreams come true!
Victor and Clarisse
April 2017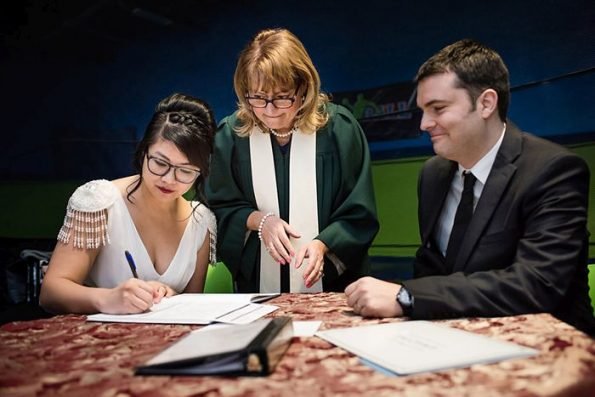 Thanks for Joining Us!
Hi Revs Angela and Gerald, Thanks again for officiating our unusual wedding!  thanks for joining us!
All the best,
Joyce and William
March 2017

A BIG Thank You For Officiating Mine and Patrick's Ceremony
Hi Angela,Now that I've had a moment to get caught up after the wedding I just wanted to send you a BIG thank you for officiating mine and Patrick's ceremony. Everything went better than I ever could have expected and we were so happy with how the day turned out.
Again, thank you so much for making our day extra special.
Sincerely,
Dayna and Patrick
June 2016
It is a Moment We Will Never Forget
Dear Rev. Gerald, Clyde and myself would like to take this opportunity to thank you and your family for the wonderful ceremony that you and your family put together on this wonderful day. We appreciated every single moment of this day and I must say your hard work was really worth it. Also, we want to say a special thank you to your daughter for granting us the favor of photographing us. Thanks again for everything.
Thanks again! It is a moment we will never forget. You and your family made this day possible, even if we thought it was impossible. Thank you so much!
Best,
Nadiege and Clyde
May 2016
You Both Helped Make a Miracle Happen
Dear Rev. Gerald,Both Roderic and I trust Jesus to lead us and we found you two. I believe you both helped make a miracle happen, you went above and beyond for us, and my family thought you did splendidly. I will never forget the both of you, and your wife sharing the frankincense actually meant a lot to us and to go out of your way to bring the roses was very thoughtful of you. We can't thank you enough. Everyone raved about how wonderful everything was. Thank You Thank You Thank You and God bless you two always. This is our testimonial from the heart and we would be happy if you shared it with others.
Warm Regards and keeping you in our prayers,
Roderic and Rachel
March 2016
We Truly Felt Touched By Your Beautiful Words
Dear Rev. Gerald and Rev. Angela, Thank you kindly for being a part of our celebration – it was a lovely day and we enjoyed our time at your beautiful home.
We truly felt touched by your beautiful words and are looking forward to our every moment. Thank you for your blessing.
Best wishes to you and your loved ones.
Kindest regards,
Jamie and Christopher
June 2016
Thank-you For All That You Did to Help Make Our Wedding Day The Dream We Were Hoping For
Hi Rev. Gerald, Sabrina and I wanted to reach out to you and Rev. Angela, and thank you both so much for helping guide us through yesterday and being such a pivotal part in our transition to the next stage of our lives.  We were very pleased with everything about the ceremony as were all of the guests.  Our only regret is that we didn't get to thank you in person after the ceremony.  I fear we over planned our schedule and completely overlooked the fact that we would not have the chance to speak with you after the ceremony.  
Once again, Thank-you for all that you did to help make our wedding day the dream we were hoping for.
Thanks,
James & Sabrina
June 2016
Coaching Testimonials
___________________
_______________
They Taught Me How to Really Listen to my Intuition
Before I started working with Angela and Gerald, I had some major trust issues.  I didn't trust anyone, not even myself!!!  They helped me get to the root of the problem within myself and walked me through overcoming my feelings of unworthiness.  They are so intuitive and two of the most loving people I have ever met.  I genuinely feel like a new person with a fresh perspective and unshakable confidence in myself.  They taught me how to really listen to my intuition, such an invaluable gift!!!  I would recommend that any work with these two beautiful souls, what a perfect duo!
Jackie Stover
USA
October 2017
Thank You Both, for Reminding me to be Gentle and Kinder to Myself
Rev. Angela & Rev. Gerald are such gentle and incredible coaches.
They have such a beautiful energy about them. They facilitated a conversation with me, it was easy and flowed naturally.
Asking questions to bring about insights. From speaking with them I got that I am worthy.
Not just a knowing but a law, a belief. I am worthy regardless of my outside circumstance and events. I knew this before however, it didn't really integrate until I spoke with them.
When circumstances that are not favorable, do happen, I can always come back to this. I am worthy!!
Thank you both, for reminding me to be gentle and kinder to myself.
If you are looking for two compassionate and loving souls to gently remind you of your greatness and assist you in achieving your goals, look no further.
Love and Light,
Lena Grewal
October 2017
They Helped me Establish a Life Long Process for Changes in me that I so Appreciate
Hi, this is Sue MacKimmie,
I worked with both Gerald and Angela and they really helped me out in terms of coaching me, kind of getting ready to attract the next love in my life.  They really helped me to understand and realize the common thing that I was attracting all the time, which is basically a teenage boy in a man's body. Also, they helped me with boundaries and we worked on exercises about being able to say No more, and being comfortable with that and not feeling guilty. They helped me establish a life long process for changes in me that I so appreciate.
They are loving and helpful. They gently probe into areas that are sensitive. I have a lot of mother issues, which is why I kept attracting the same teenage boy and they really helped me get to the root of what some of my difficulties wore. I had some breakthroughs on "why I keep attracting some people who are so much like my mother?"
They really have a grasp on the understanding of attraction and changing your inner campus. It really helped me to understand about attracting a soul mate. I don't want to get married. I am looking for a soul mate. They helped me to create that inner space, so that wherever I go, I am going to be a better common denominator to attract a better fit, a better soul mate person than a guy who just wants to have fun. Those guys are fun, but it's not a partner or soul mate, which has been my history.
If you are thinking about working with them, I highly recommend it.
You will definitely have breakthroughs. That's all I want to say in support of these two great people who have a lot of knowledge and experience, and I can express that they can help you with your breakthroughs as well.
Do it! You won't be sorry. It will be a huge change in your life!
Sue MacKimmie
USA
September 2017
My Life Has Made a Huge Shift!
Before working with Angela and Gerald, I was facing severe problems with my self-confidence. I didn't feel good enough to perform well in the job that I was doing, I didn't feel worthy of earning the money they offered me and most of all – I didn't trust myself to be able to cope with every challenge life comes up with. Angela and Gerald helped me to gain new confidence. They proved to me that my worth was connected to neither my effort nor my failures. And they showed me how to effectively put this new wisdom into day-to-day practice so the idea could prosper within me. Now, my life has made a huge shift. I'm heading towards the career that I really want to do, I'm facing every difficulty as a chance to grow and that way I can embrace and enjoy my life to the full extent.
Niki J. Borger
Germany
August 2017